About DiaTiger® CVD Diamond

How DiaTiger® CVD Diamond Coating is Produced

Coating Requirements

DiaTiger® CVD Diamond (RFQ)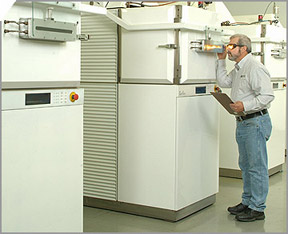 DiaTiger® CVD diamond coating takes place in a vacuum chamber using a hot-filament, chemical vapor deposition (CVD) process. Carbon gases are introduced into the vacuum chamber where high temperatures cause carbon atoms to re-bond into a 100% pure crystalline diamond structure. The crystalline diamond slowly grows on the surface of cutting tools, forming a continuous coating of up to 20 microns in thickness.

The high temperatures associated with coating limit the material that can be coated to solid tungsten carbide. Brazed carbide tools and tools made of HSS cannot be coated.

DiaTiger® CVD diamond coating mechanically bonds to the carbide substrate by anchoring into microscopic pores on the surface of the tool. The microscopic pores are created at DTC prior to coating by removing small amounts of cobalt from the tungsten carbide surface in a controlled treatment process.

Selecting a grade of tungsten carbide is critical to ensuring the quality of the coating and performance of the coated tool. DTC has extensive experience working with a variety of carbide grades to achieve excellent adhesion of DiaTiger® CVD diamond coating. Please contact us for a list of carbide grades we recommend.